Okay… I'm gonna be straight… i havent been keeping up on this story fully… infact anything Zeppelin, except the music, has been passing me by for the past 6 months or so. so i really need to get my head round whats gone on int he past 6 months….
Alot of speculation, and alot of rumours for starters!
Lets start with whats solid and fact, and out there…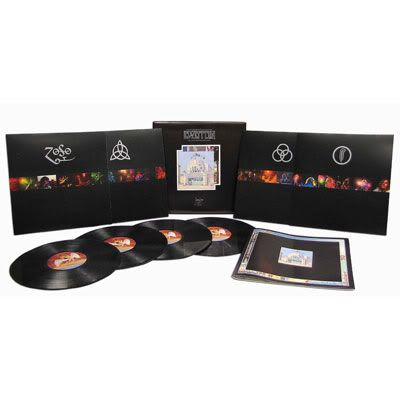 The Song Remains The Same (4LP-180 Gram Vinyl Box)
THE SONG REMAINS THE SAME (EXPANDED & REMASTERED SOUNDTRACK), now available as a collectible 4-LP 180-GRAM VINYL BOX, premiered on CD in late 2007 to coincide with Led Zeppelin's historic reunion for a concert in London benefiting the Ahmet Ertegun Education Fund and honoring the late Atlantic Records founder Ahmet Ertegun. Featuring music from the band's classic 1976 concert film, the set captures performances recorded during their legendary three-night stand at Madison Square Garden in July of 1973. Originally released in '76, the soundtrack now includes six additional songs.
Available at rhino Record store….
Unfortuately us brits get screwed over on the price, being that its $49.95 or there abouts in states and about the same in pounds over here…
oh well
Theres also some more vinyl available here:
Check out the Mothership Special Edition Vinyl 'Making Of' Video
http://www.ledzeppelin.com/video/mothership-special-edition-vinyl-making-video
Order Mothership Vinyl
http://rhino.com/store/ProductDetail.lasso?Number=371836
Order The Song Remains the Same Vinyl